Giant panda trio return to Chengdu from Washington

By China Daily
|
Nov 13,2023
14:42:46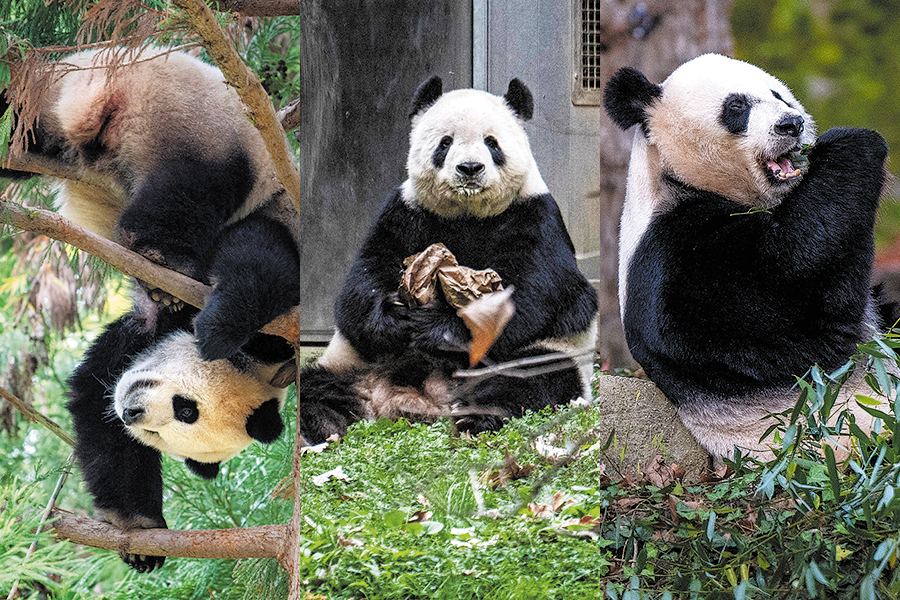 (From left) Xiao Qi Ji, Tian Tian and Mei Xiang [Photo provided to China Daily]
Giant pandas Mei Xiang, Tian Tian, and their male cub Xiao Qi Ji, who had been residing in the United States for several years, arrived at Chengdu Shuangliu International Airport in Sichuan province late on Thursday.
Accompanied by Chinese veterinarians and caregivers, they were taken to the Shenshuping Base in the Wolong National Nature Reserve in Sichuan, about 130 kilometers from Chengdu, for quarantine procedures.
In 2000, female Mei Xiang and male Tian Tian were leased to the US, staying since then at the Smithsonian's National Zoo in Washington, DC. In 2020, the pair gave birth to Xiao Qi Ji, which means "little miracle" in Chinese.
During their stay in the US, the furry trio received professional care and attention from zoo staff members, helping establish fruitful cooperation between the two sides.
According to the cooperation agreement between China and the US, Mei Xiang and her family have returned to China as scheduled, the National Forestry and Grassland Administration said.
After the departure of the three pandas, there are still four others remaining in the US, currently residing at Atlanta Zoo.
Since China and the US began to cooperate on giant panda conservation in 1996, achievements have been made in areas such as breeding, disease prevention, technical exchanges and public education, the administration said.
To ensure a safe and smooth return of the giant panda family, experienced Chinese experts went to the US six months in advance to assist with caregiving and familiarize themselves with the family's habits and conditions.
They worked together with US experts on behavioral training, daily checkups and health assessments.
In preparation for their post-return quarantine, the Sichuan facility has set up indoor enclosures, feed processing rooms and outdoor activity areas.
An ample supply of bamboo, bamboo shoots and supplemental foodstuffs has been prepared in advance.
During the trio's quarantine period, a team of experts will be on-site 24 hours a day, providing meticulous care and monitoring their health to ensure a smooth transition for Mei Xiang's family back to life in China, the administration said, adding that this year and next year, several other giant pandas with expiring agreements — and pandas reaching a certain age — will return to China.
The administration will organize agencies to do the repatriation work, it added.
China will continue to strengthen cooperation with countries, including the US, to contribute to the protection of endangered species such as giant pandas, and deepen friendship between the Chinese and overseas people, said the administration.
China is currently carrying out panda conservation cooperation and research with 19 countries worldwide, data released from the administration showed.
Since the 1990s, China has conducted giant panda conservation and research with 26 institutions from 20 countries to jointly protect the species, including the US and Russia. As a result, they have successfully bred 68 cubs.