Belt and Road report: Border city Ruili thrives on port economy

By Gateway
|
Sep 14,2023
18:25:12
The Yunnan and Chongqing international communicators on the Belt and Road media tour staged a live streaming in Ruili city, west Yunnan's Dehong prefecture on September 13, focusing on the vibrant port-based economy in the China-Myanmar border areas.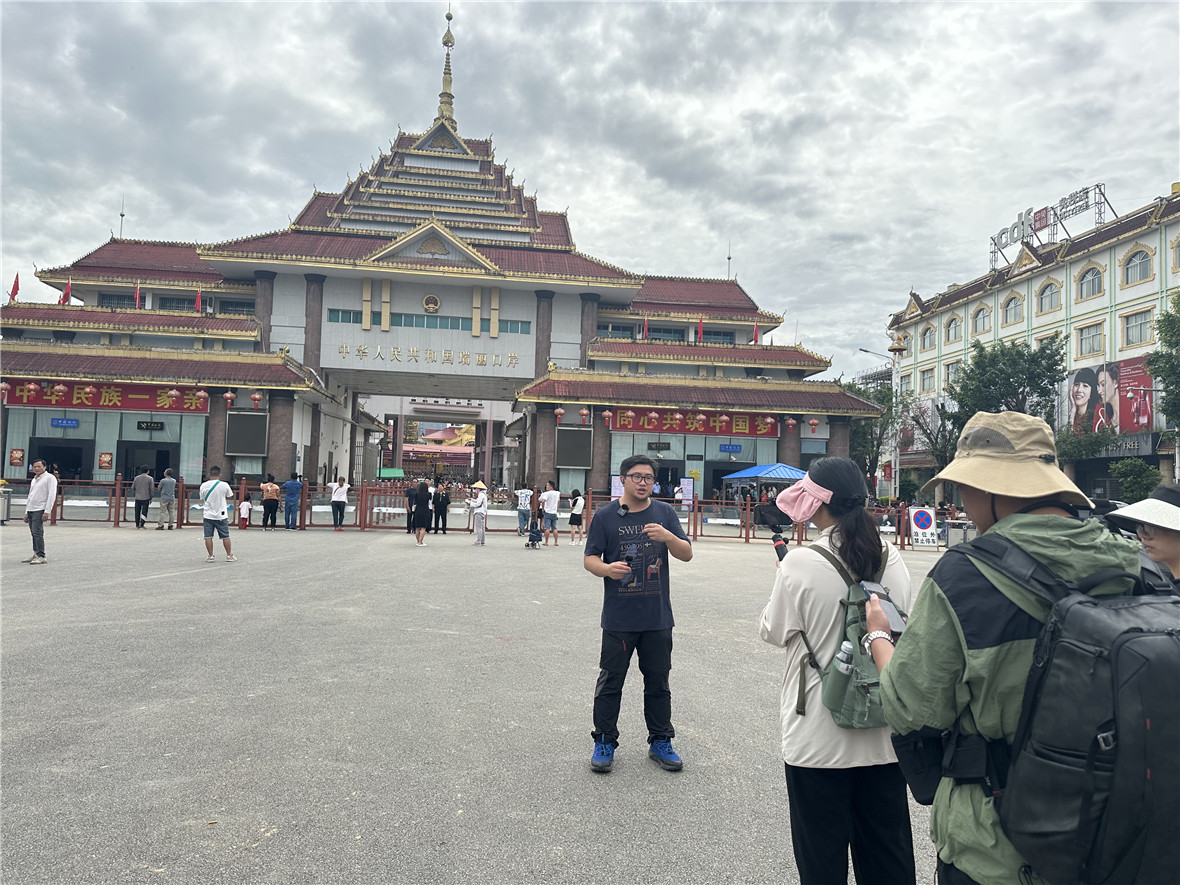 Yunnan English anchor Jerry is on the live streaming.
"I'm returning to Myanmar for a few days with my family. With improved customs services, the time for entry or exit at the gate has been shortened, and now it's easier for me to go home," said Ai Long, a Myanmar resident who works in a restaurant in Ruili for half a year.
At about 10:30 in the morning, the busy Jiegao border gate was packed with international traders and tourists, and some cross-border workers from Myanmar and other ASEAN countries lined up with their luggage, getting through customs clearance in order.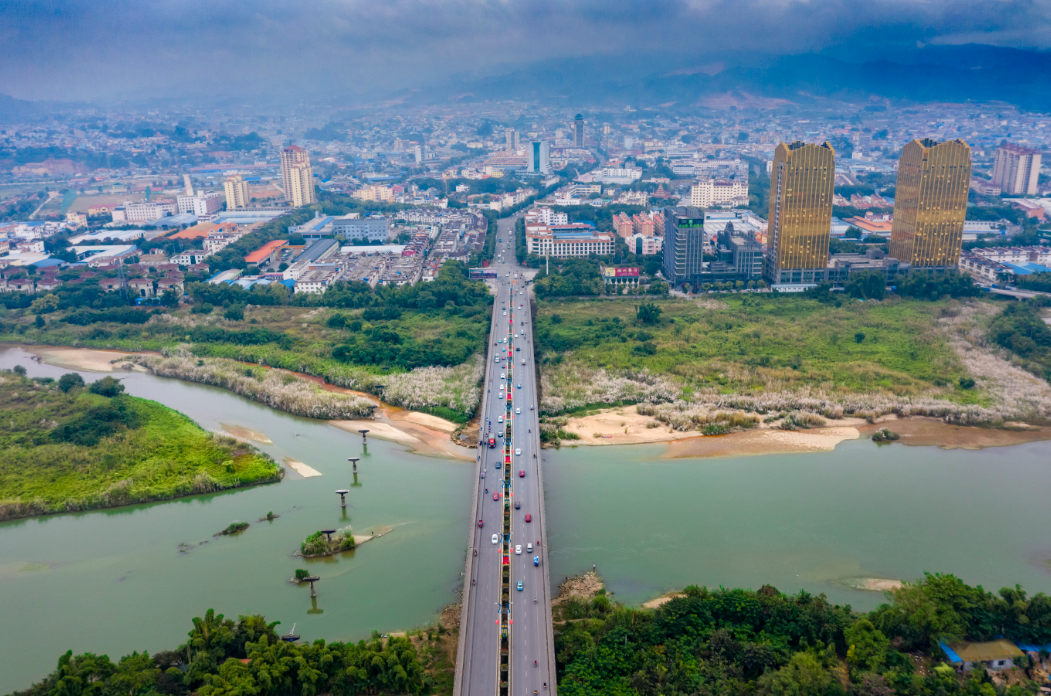 An overview of the Ruili port city
Jiang Haizhen, a shopkeeper who has been selling Southeast Asian food at the Ruili land port for many years, is busy introducing the ASEAN specialties to her customers: "These are Thai drinks, Vietnamese durian cakes and Malaysian coffee... But the most popular are Myanmar products, such as cookies, tea beans and milk tea."
Jiang told the international communicators that hers is a duty-free shop and thus benefits the consumers a lot. The store is visited by some 300 to 500 customers on daily basis, but during the Chinese new year and other festivals, the number doubled or tripled. Chen Zhan, a Chongqing English anchor, said she would buy some perfume from the shop.  
The live streamin
Chen said this during the joint live streaming with Yunnan English anchor Jerry, and her focus was the workshop of Yinxiang Motorbike Manufacturing Company in the Ruili port. As soon as she entered the factory, she was impressed by rows of neatly arranged motorcycles and busy workers on the assembly line.
"Our company was set up in 2013, and we make motor bikes, motor engines, agro-machines and spare parts. Our products are sold to Myanmar and other Southeast Asian countries," said Fang Wei, deputy general manager of the Yinxiang company.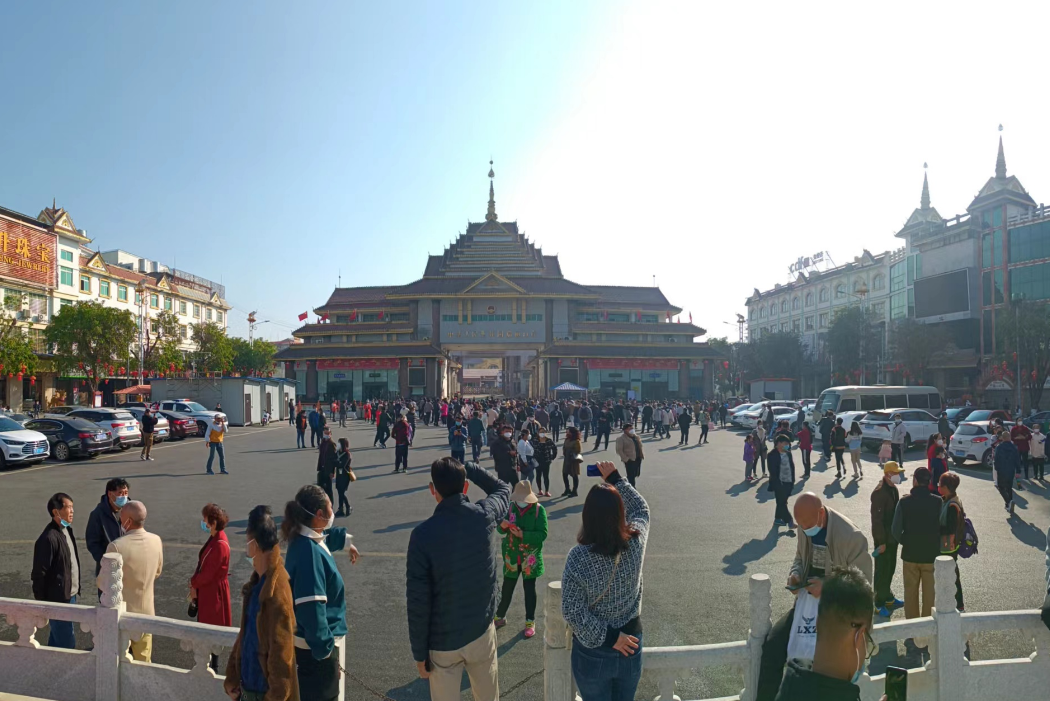 The bustling Jiegao border gate
With the Belt and Road Initiative cooperation and China-Myanmar Economic Corridor over the years, the Ruili-based manufactures have stepped up going global. Fang said they improved their motor bikes for the needs of Myanmar riders, but given that some bikes have been exported to Bangladesh and India via Myanmar, they will further improve the motor bikes for localization.                            
"I've fully adapted to the life in Ruili, which is close to my home in Myanmar," said Luo Caifei, a Myanmar native who has worked in the Yinxiang company for seven years. Luo felt it rewarding to learn about motor making and allow more fellow folks in Myanmar to ride quality motor bikes at affordable prices.
Reporting by Wang Jingzhong, Chen Zhan and Wang Xi; Trans-editing by Wang Shixue