Specialists offer peek at the future of AI

By China Daily
|
Nov 10,2023
11:47:14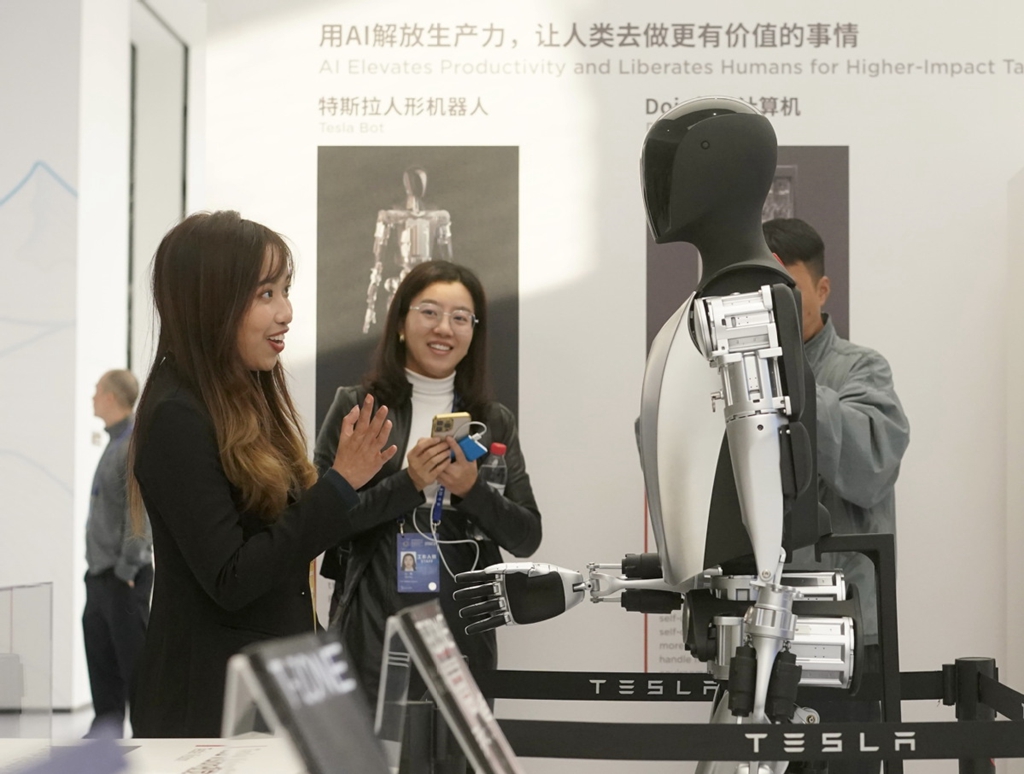 A visitor interacts with a robot at the World Internet Science and Technology Museum in Wuzhen, Zhejiang province. GAO ERQIANG/CHINA DAILY
The air in Wuzhen, Zhejiang province, seems filled with artificial intelligence or AI this year.
At the World Internet Conference Wuzhen Summit on Thursday, top executives of China's biggest internet and technology companies called for accelerated efforts to develop AI infrastructure and an open AI ecosystem.
At the conference, industry experts also called for more coordinated international efforts for AI governance, believing it is the only way to harness AI for humanity amid rising global economic uncertainties.
In a WIC session involving top executives of Baidu Inc, Alibaba Group and JD, the topic that received emphasis was the need to build a more open AI ecosystem.
Wu Yongming, CEO of Alibaba Group, said: "The key to developing AI is to create a strong infrastructure and an open ecosystem. AI and cloud computing will become Alibaba's two-wheel drive for future underlying capabilities and the company will insist on building a more solid infrastructure base and a more open and prosperous AI ecosystem."
With around half of the country's AI large models running on Alibaba Cloud, Wu disclosed that Alibaba will soon "enable its large model with 72 billion parameters to be in open source", which is expected to become the largest open-source large model in China.
Robin Li, chairman of Baidu Inc, emphasized that current large models and computing power cannot generate value themselves and the key is to use large models and other technologies to build a prosperous AI native ecosystem.
Recalling that some entrepreneurs are still buying chips and drivers in a bid to build large models from scratch, Li said it is a wrong direction to take and could lead to a huge waste of social resources.
Guo Kaitian, senior vice-president of Tencent Holdings, said in a separate session that the company has developed technologies related to large models, including model algorithms, machine learning frameworks and AI infrastructure, all by itself.
"Tencent also pays more attention to the effectiveness of applying large AI models to real business scenarios," Guo said, adding Tencent Cloud has offered more than 50 large model solutions to 10 major industries, including finance, cultural tourism, media, government affairs and education.
At the same time, Tencent has been beefing up efforts in technological ethics and will strive to make AI "knowable, controllable, available and reliable", Guo said.
In another session, Yang Yuanxi, co-founder of Kuaishou, a publisher of short videos and one of the country's largest online platforms with 400 million daily active users, disclosed that the company is developing its own large language model and a video recommendation system based on large models.
Since the company has a portfolio of more than 10 billion short videos, it is difficult to use human power to enable users to find content that matches their interests. So, AI is expected to help in this regard, Yang said.
Li Yi, founder of internet firm Yuanbiancheng, an AI-powered educational startup, said more efforts are needed to boost AI education and nurture more AI talent.
"AI education should be education for the future era of AI. It is necessary to enable younger generations to prepare corresponding abilities and knowledge of AI for future development," he said.
Last month, China launched the Global AI Governance Initiative with the avowed goal of creating an open, inclusive and fair approach for the development, security and governance of emerging AI technologies and services.
Xuan Xingzhang, an official from the Chinese Academy of Cyberspace Studies, said that countries across the world have been strengthening their use of AI, especially large model technology, and China, the United States and the European Union have all explored and boosted AI governance.
Francis Gurry, vice-chair of the WIC and former director-general of the World Intellectual Property Organization, said: "The future of the internet and the future of AI are closely connected with each other. Realizing the potential of AI also requires international cooperation, just like promoting the continued development of the internet."