More signals of stabilizing ties urged

By China Daily
|
Nov 13,2023
14:33:23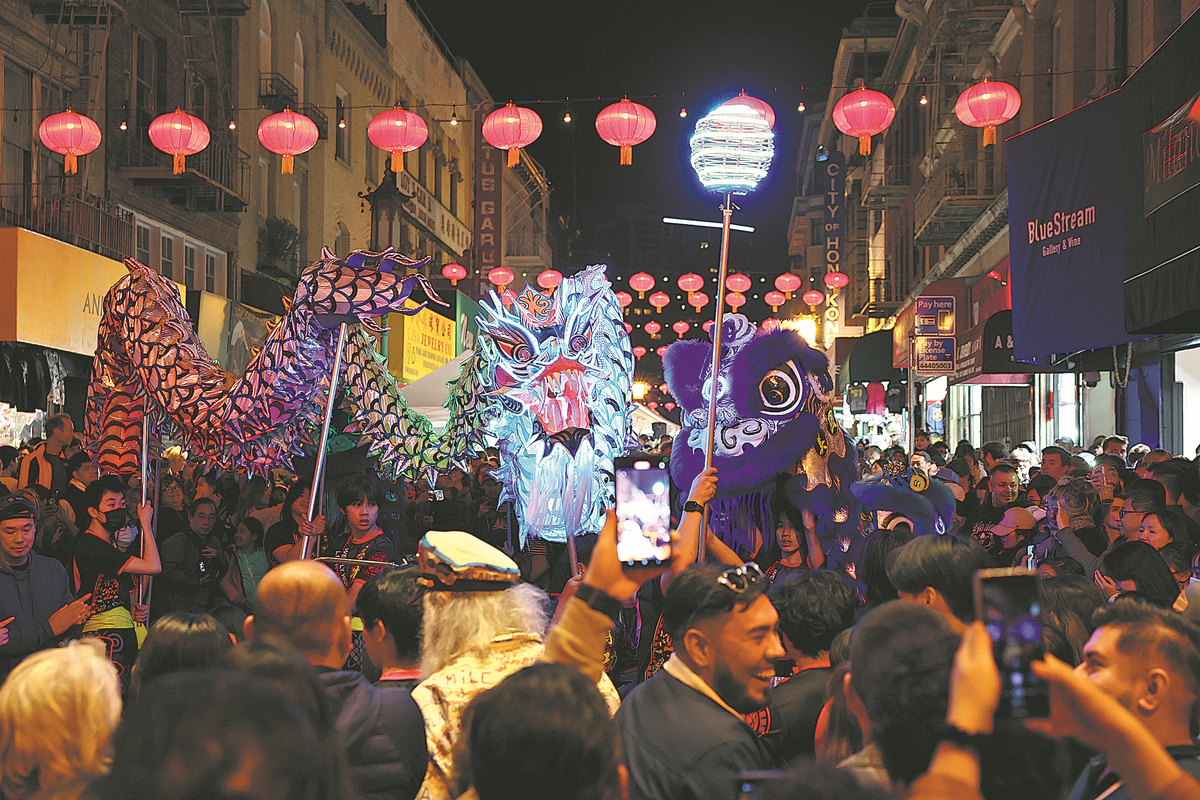 A dragon dance and lion dance performance gets underway on Saturday night at San Francisco's China Town, as part of the city's efforts to attract tourists and participants to the upcoming Asia-Pacific Economic Cooperation meeting. [FENG YONGBIN/CHINA DAILY]
Sound Sino-US relations to boost world's confidence
Efforts to stabilize business ties between China and the United States and prevent economic "decoupling" will prove beneficial for companies and consumers in both countries, amid factors including mounting instability and uncertainty in the global economy, experts and business leaders said on Sunday.
They also said that, with a much-anticipated meeting between the leaders of the two countries drawing near, more positive signals need to be sent, as such signals can help bolster confidence in not only both countries' economic growth, but global economic recovery as well.
Zhang Yansheng, chief researcher at the China Center for International Economic Exchanges, said, "There are some extremists in the US who pursue 'economic decoupling' from China, and it is critically important for the two countries to rely on stable and high-level communication and dialogue mechanisms to discuss matters of concern and improve bilateral economic ties.
"As they are the world's two largest economies, improvement to their economic relations will inject greater positive energy into the world economy, especially as inflation in the US persists while global investment and trade slow down sharply," Zhang said.
Furthermore, uncertainties in China-US economic relations have had a negative impact on the development of other countries that rely heavily on global trade.
Li Haidong, a professor at China Foreign Affairs University's Institute of International Relations in Beijing, said that restrictive US measures toward China, particularly in the field of advanced technology, will ultimately backfire. This will cause great damage to the interests of US companies, and the companies cannot afford to abandon China's huge market, Li said.
Zhang said it is unfair for the US to have added so many Chinese enterprises to its "entity list", an export blacklist, and it will be of great significance for China to express its concerns over matters like that through dialogue.
"To be responsible for both their people and those of the rest of the world, the two countries must reach consensus that they need to maintain good economic relations and jointly safeguard world development," he said.
"The US should take concrete actions to promote bilateral economic relations, while China stays committed to further deepening reform and expanding opening-up to strengthen economic and trade ties with the US," Zhang added.
Lyu Shuping, president for China and Asia at Xylem Inc, a US-based water technology provider, emphasized that harmonious China-US business ties contribute to the growth of US companies operating in China.
Despite external uncertainties, China has become the company's second-largest single market — behind only the US market — by sales revenue, as well as a long-term market of strategic significance, Lyu said.
Xylem has not only expanded its presence in the Chinese market, but also exported its products manufactured in China to a large number of economies participating in the Belt and Road Initiative and to nearly all signatory countries of the Regional Comprehensive Economic Partnership agreement, Lyu added.