China visit underscores flying tigers' legacy

By China Daily
|
Nov 14,2023
15:22:17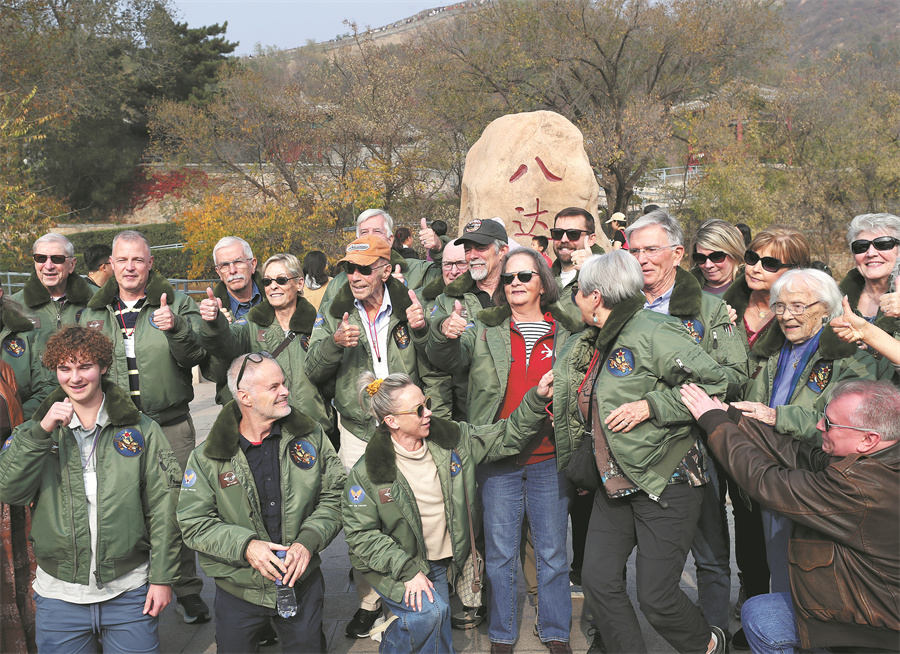 Members of the Flying Tigers pose alongside first-, second- and third-generation descendants of Flying Tigers at the Badaling Great Wall in Beijing on Oct 29. [ZOU HONG/CHINA DAILY]
Four generations speak out on overcoming lack of mutual understanding
The last surviving Flying Tigers — United States World War II air force veterans who helped the Chinese people fight Japanese aggression — have just had a rare opportunity.
They reunited with and traveled to China alongside first-, second-and even third-generation Flying Tigers' descendants.
The 10-day visit, which ended earlier this month, saw a delegation of more than 30 people visit historical sites and tourist attractions in places that included Beijing, Chongqing and Kunming, the capital of Yunnan province. They also attended friendship events.
Representatives from each of the four generations told China Daily why and how they supported the people from China and the US to exchange increased friendship and tackle a lack of understanding between each other.
Harry Moyer, a Flying Tigers veteran, turned 103 during the visit to China. After completing his air force mission during the war, he had only previously traveled to the country in 1995.
Moyer was presented with two big birthday cakes on Oct 30 at events held in Beijing by the US embassy in China and the Chinese People's Association for Friendship with Foreign Countries.
Asked about his birthday wish, Moyer said: "To tell you jokes, spread happiness, blessings and peace throughout the world, and have great companionship with all people. That's what we have to have."
He said people in the world "have to get together", adding, "It's a hard thing to do because of adversity, but it's such an easy thing to do if people apply themselves."
The Flying Tigers' mission, which started in 1941, was undertaken by the First American Volunteer Group, which was disbanded in July 1942. The US 14th Air Force continued the group's mission the following year.
Moyer, who was despatched to Italy in 1941 for combat duties, said, "When the Japanese entered Shanghai and Nanjing, there was worldwide coverage in the newspapers, Fox newsreels and in Life magazine.
"The Chinese people were exposed to the harshness of the Japanese occupation … and I just felt I wanted to do something about it. So when the time came for me to make a decision to do this, I did."
Moyer arrived in China in January 1944, when he and his group were transferred to the US 14th Air Force in China under the command of General Claire Chennault.
"I could have gone home — I had completed enough missions to go home, but I chose to go to China with my group. I stayed until September 1944, when I came home," he said.
Asked about the developments and changes he has seen on recent visits to China compared to his wartime experiences, Moyer said: "It's amazing. Even in 1995, it was just amazing — the progress that you see here, all the construction and the people.
"The Chinese have always been an industrious people, and this is well recognized today."
President Xi Jinping wrote a reply letter in September to Moyer, fellow Flying Tigers veteran Mel McMullen and Sino-American Aviation Heritage Foundation Chairman Jeffrey Greene, stating that he hoped the spirit of the Flying Tigers would be passed down to the next generation.
Moyer, whose grandchildren traveled with him on the recent trip, said: "They're going to gain a lot of information and a lot of history about China and its culture. That's a big thing, because the culture of China is so diverse and so ancient."
Risky flights
David Goodrich is the son of Flying Tigers pilot Jack Goodrich, one of the few remaining "Hump Pilots".
"These pilots flew from Burma (now Myanmar) into Kunming over the Himalayas to deliver fuel, ammunition and other supplies that the Chinese people needed to resist the Japanese," David Goodrich said.
When he was a boy, his father told him funny children's bedtime stories, but it wasn't until he was much older that he heard stories that were more related to the war.
Goodrich said that when his father's plane was heavily loaded with supplies, it was sometimes challenging to fly over mountain peaks in extreme weather conditions.
"He talked about horrible electrical storms, and in those days, they didn't have radar or technology such as GPS. They flew by instruments, but as lightning would affect the instruments, they had to fly by sight," he said.
"My father often told me that the friendships forged between the Chinese and Americans during battle were the strongest friendships, and that he is proud that those friendships still exist today."
His father told him how friendly and warm the Chinese people are and how beautiful the country is. "That's why it's long been a dream for me to come and see the Chinese people in their homeland," Goodrich said.
"My impression (of China) was maybe gained mostly from television or movies, so to see the country for myself was overwhelming."
Discussing ways to better engage the younger generation from both nations, he said, "Schools now are different to when I was a schoolboy, because you can do so many things online, but I still think that nothing actually beats coming to China and meeting the people.
"We need to see each other face to face, tell our stories and share our common goals, and I also believe that we all want to live in a world of peace and need to let each other know that this is what is the most important."
Common grounds
At a commemorative event attended by the US delegation in Beijing on Oct 30, Yang Wanming, president of the Chinese People's Association for Friendship with Foreign Countries, quoted from Way of a Fighter, a memoir of Flying Tigers founder Chennault, when delivering a speech.
"It is my fondest hope that the sign of the Flying Tigers remains aloft just as long as it is needed, and that it will always be remembered on both shores of the Pacific as the symbol of two great peoples working toward a common goal in war and peace," Yang quoted from the memoir.
Nell Chennault Calloway, Chennault's granddaughter, said her grandfather's story and bonds with China began in 1937, when he arrived in the country in June, six weeks ahead of the Lugou Bridge Incident in Beijing on July 7 — the start of Japan's full-scale invasion of China.
"He saw and heard that Chinese people were being tortured, and the Japanese were also doing things to him," she said.
"He didn't look at their politics, he didn't look at their ideologies, but he looked at (the fact) that there were people who needed him and the skills he had been working on for 20 years."
In 1937, Chennault carried out a survey of the Chinese military, finding that it had 500 airplanes, "but only 91 that could fly".
Four years later, he returned to China and recruited a group of young men, forming the First American Volunteer Group, later known as the Flying Tigers.
More than 2,000 members of the Flying Tigers made the ultimate sacrifice while helping China, while thousands of Chinese lost their lives rescuing US pilots in distress.
Calloway, also CEO of Chennault Aviation and Military Museum, said she has heard many accounts of US pilots being saved by Chinese after their planes were shot down.
"That may not be an easy thing to do, but those Chinese risked their lives," she said.
Calloway added that one of the founders of her museum was a navigator on a bomber, who was rescued by Chinese after his plane was shot down.
"While the Chinese were getting him back to where his people were, they went through many villages …The chiefs of every village they passed through signed a banner of good wishes to the US navigator," she said.
"When he got back, the intelligence people said, 'Do you realize the village chiefs were putting their own lives at risk if the Japanese had been able to get hold of that banner they signed? The Japanese would have gone back and wiped out the villages'."
Calloway added: "These Chinese wished this soldier well, even though it meant they could be destroyed for doing so. To me, that means so much."
Youth engagement
Jackson Long, the 15-year-old great-grandson of Flying Tiger Clifford Long Sr, is a member of the generation that is expected to carry forward the legacy of friendship.
A fan of Chinese dumplings, and an avid member of his high school golf team, what impresses him most of all his great-grandfather's wartime stories is that he managed to survive two plane crashes.
He said China is "a lot different "from the impression he gained of the country from the US media and politicians.
"You can't really grasp everything about China just by looking at social media ... you have to be here to experience all the amazing different cultures that China has to offer," he said.
The 10th-grade student underlined the importance of better engaging young people to pass on the Flying Tigers' legacy.
"If we just got a bunch of people in their 50s in a room, learned all this information, and it just stayed with that group, it wouldn't really get carried on to the next generation," he said.
He added that when he returned to his school in the US, he would definitely tell his fellow students to visit China with him the next time.
"We visited the Great Wall, which is pretty cool. I'll tell them why, when I show them pictures of myself on the Wall," he added.